You don't have
to be an expert craftster
to enjoy dadcando craft projects. All our projects are designed with children in mind, and all explained in simple steps that will give you great results every time. But, even if you are experienced in the art of crafting, we're sure you'll find interesting projects here that are new and different.
Bind your own book
and cover it with an old pair of trousers! Or learn the modern art of papier mâché, where you can make this gorgeous . . . . . . . . Homer Simpson
D'oh Nut . . . . . . . .. . . . . . . . . . . using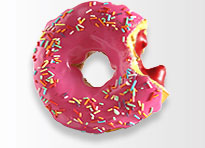 masking tape . . . . . . . . . and couple of plastic grocery bags. Even where we explain more tradition crafts, like
painting a T-shirt
, we add details to make sure that you and your children get the best results.
Dadcando′s projects are driven by what kids want, and so you'll find many of
of them are based on films, books
and console games.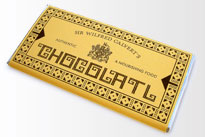 Where necessary . . . . . . . . . . . . . . .
our projects are supplied with lovely . .
download printables of the highest quality so that your models and craft will always look as close as possible like the pictures of the finished projects you see on the pages of dadcando.
Now on dadcando you can upload pictures of the things that you have made and not only show your friends but win prizes in one of the regular competitions we run for the best uploaded pictures. So what are you waiting for?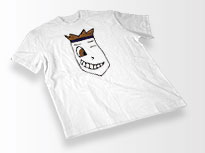 It's time to get crafting with dadcando and see what you can do.