Once you have made a few models and
toys from junk
with your kids, theyíll begin to think of things that they would like to make from scratch. My kids usually start with the phrase, ĎDad - can we make something?í Unless you follow a ready made project plan, working out what you are going to make is sometimes the hardest part of the project, and if you donít know what you are making at the start, you invariably end up with an unrewarding mess at the end.
At the planning stage, you are governed by four things: The available materials, your tools, your and your kid's ability and the time you have.

The good news is that there are making projects to fit any mix of abilities and facilities. Your materials will be a mixture of junk lying around the house, and the odd bit of some special stuff that you can buy very cheaply. The equipment that you need can almost be limited to a
glue gun
, some
spray paint
and a
permanent maker
. That just leaves your skill level, and to be frank, you donít need much to make a nice model or toy with your kids that they will love.
When you have decided what you want to make, the first thing to do is get yourself some
reference
. Search the web and have a look at pictures of the real version of what your kids want to make. Print some off to guide you.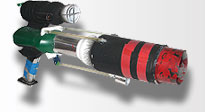 This ray Gun was based on a weapon in one of my childrenís favourite games console games, Ratchet and Clank.
Once you have your reference pictures, have a look at what materials you have. Old plastic bottles, boxes, and bits of card are the obvious ones, but get creative. Think of all the things you have in the attic, shed or garden. An old plastic football, a bit of garden hose, a toothbrush, or a piece of aluminium grille are all great starting points for a neat project.
The great thing about making something from a console game is that it gets the kids off the game and into some really imaginative play, running round the house or garden, while still feeding into the world of their game.

If you can, use the computer design and print out label and graphics that will enhance your model. Dadcando's
TARDIS
project is really finished off by printouts of the Police Phone Call Box sign, and the smaller door sign, and on this project, we have already drawn up and laid them out to make the job really easy.
But you might need something more than just junk, if you are going to make really realistic models.
Foam Board
is a superb model making material, which will enable you to make just about anything which has a box like shape. The
TARDIS
and
K9
were both made almost entirely from Foam Board. For things that have curves, where no plastic packaging is suitable, youíll have to resort to
Polymorph
, papier mache, or Plaster of Paris bandage.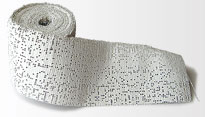 To use Plaster of Paris bandage, simply cut it into 300mm (1 foot) long sections off the roll and pull through a saucer of water. Itís very messy, but great fun and dries overnight to a hard finish. Itís great for scenery, very satisfying to use and easy to paint with water based paints when it is dry.

To add the finishing touches to an advanced model, nothing works better than a bit of light. LEDs (light emitting diodes) are brilliant for this. They are low power, low current drain (meaning that they last a long time on the same battery), they can be very bright and are small, so they can be put almost anywhere in a model or homemade toy. You can find out
more about LEDs
in the Useful Stuff You Need section on dadcando.com.