An old favourite, still brilliant today
| Ingredients | |
| --- | --- |
| Plain Flour | 75g |
| Eggs (Medium) | 2 |
| Milk | 75ml |
| Water | 50ml |
| Cooking oil | |
| Sausages | 12 |
| Potatoes | 1.5kg |
| Butter | 30g |




An old favourite (certainly from my childhood) and a real comfort food. Served with mash and beans, itís hard to beat. So easy to do and with the two egg batter mix, the "hole" part of the dish should rise spectacularly.


. . . Although no weighing scales are needed for this recipe, the weights and measures are given for your convenience.

This recipe should serve one adult and three hungry kids with a large portion of batter and three sausages each.










How to make it
Make sure all your toads are separated! Lay out on a nonstick, oven proof baking tray with a lip or roasting tin. Drizzle with a tiny bit of oil and put in a hot oven (Mk 7, 425F, 220C).
. . . Fill a standard sized mug about half full with plain flour. Put the flour, two eggs and a pinch of salt in a mixing bowl and mix till you have a gloopy paste. Fill about one third of a standard sized mug with milk and then top up with water so the mug half full. Add the water-milk to the bowl, a bit at a time while mixing, making sure the mix stays smooth. Cover the bowl with cling film or a plate and put it in the fridge while the sausages are half cooking.
. . . After the sausages have been cooking for about 10-15 minutes take them out of the oven and pour the hole mix (batter) over them evenly so that the whole base of the tray is covered. Put the tray of sausages and hole mix back in the oven and cook for a further 20-25 minutes or until the batter is golden coloured. Keep an eye on the batter, it should rise nicely and be golden brown, but not burnt.
. . . After the toad has been cooking in the hole for 15 minutes, put some baked beans on the stove and take the potatoes off the boil, drain and mash them with some butter and a splash of milk. Serve when the toad in the hole batter has risen and is golden.
---
The recipe instructions are so easy to follow, and they're quick to download.


| | | | | |
| --- | --- | --- | --- | --- |
| | | OR | | 157 288 |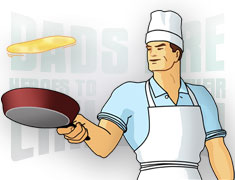 Cooking for your kids


Donít always get a take out or just heat up a ready meal. You can cook simple tasty food really easily, itís cheaper and much better for you and your kids will love it. If you cook your own meals you can customize them to your kidsí tastes and make food that they love and makes them feel special.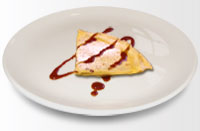 Kids love routine, so there is nothing wrong with having the same favourite meal every time they come to stay or visit, in fact it's likely to become a really nice routine that they look forward to. I do
Baked Bean Con Carne
on a Friday night, and my children often ask if itís Bean Con Carne day.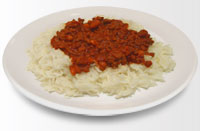 They almost feel cheated if I change the menu. If you cook your own food you can afford to get the best ingredients, and if you cook more than you need then you can freeze it for next time, or in single portions for your own meals on other days when you donít feel like cooking a meal.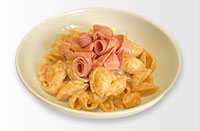 Cooking for your kids is a good way to show them how capable you are and is a great way to introduce them to proper food which makes those special restaurant outings much easier all round.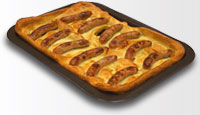 So get out the apron, select your kids' favourite recipe, buy a few nice ingredients and cook something nice for your kids next time they come to stay.
Bon appetite