You don't even need to bake these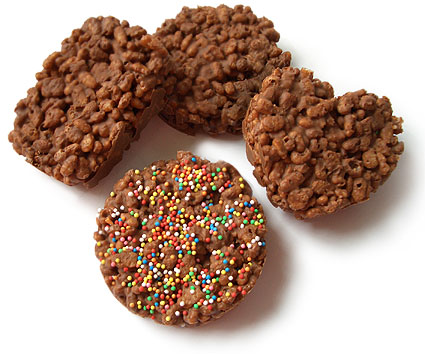 | Ingredients | |
| --- | --- |
| Bar of chocolate | 1 or 2 x 250g |
| Butter | Small knob |
| Rice Krisies or Cocopops | 1.5 Ė 2 cups |
| Sugar | Tea Spoon |




This recipe is very quick and easy and really good fun to make. The sweet smell of melting chocolate is just fantastic. You can use any bars of chocolate, milk, white or dark. However do not try and melt Flakes, Ripples or things like Mars Bars, they have ingredients in them which stop them melting properly.
. . . This recipe is partly a making project as well, because one day we wanted to make Rice Krispie cakes but we had no paper cup cake holders, so we cut up a Pringles crisp tube and used that instead. We also wanted something to go inside our wizardís cake boxes and these Rice Krispie cakes seemed perfect. . . . This recipe should make about 12 chocolate Krispie Cakes, which should be enough for 12 kids or one very hungry kid. Although the exact quantity of ingredients isnít really important, you need enough chocolate to coat the Rice Krispies and enough Rice Krispies to fill some or all of your homemade cake rings.


How to make it
To make the cake rings, take either a crisp tube (Pringles) or a small drinks bottle and mark it off at roughly 15mm (3/4Ē) intervals with a permanent marker and then draw lines to the marks making sure that they are neat. Make the initial cut with a craft or kitchen knife and then cut out the rings with strong kitchen scissors. You donít need baking paper for this recipe because it is not being baked. Just lay a couple of sheets of clean plain paper (A4 or US Letter) on a suitable tray or flat surface (small enough to fit in your fridge) and place the rings on the paper.
. . . Break up 1 or 2 x 250g chocolate bars and place in a non-metallic bowl with a small knob of butter and a teaspoon of sugar (stops the chocolate setting too hard). Microwave the chocolate, butter, sugar mix on medium for about 10 seconds at a time stirring between each time until the chocolate is melted and the butter and sugar are mixed in. Do not over microwave as this will burn the chocolate. Gently stir in the Rice Krispies in to the melted mixture (cooks call this ďfolding inĒ) trying not to crush too many Rice Krispies, until all the Rice Krispies are completely coated.
. . . Spoon the chocolate coated Rice Krispies into the rings, patting down gently with the back of the spoon so that the cakes are nice and flat and fill the rings neatly. Chill in the fridge for about 30 minutes then press out.
Try these variations
You could shape the Pringles rings into other shapes before you put the Krispies in to them. Heart shapes work well, but so do square shapes.


While the chocolate is still soft and before they are chilled and set, why not sprinkle the top of the cake with 100s and 1000s.


You could serve them as a pudding with cream (or spray cream) or chocolate sauce poured over them.


While they are setting why not print out and make some wizard treat and cake boxes (in the Making section).
---
The recipe instructions are so easy to follow, and they're quick to download.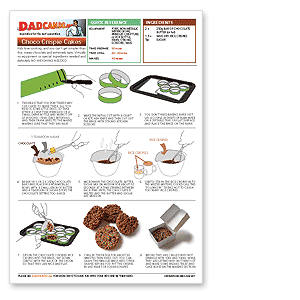 | | | | | |
| --- | --- | --- | --- | --- |
| | | OR | | 150 385 |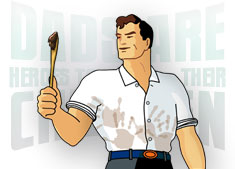 Cooking with your kids



Kids love cooking. Our recipes are illustrated and so simple to follow, making it really easy for you and your children to cook together. Encourage them to read the recipe and gently help then solve any problems that come up. Make sure they go back to the instructions and check that they have the right stuff and are doing things in the right order. Itís lovely when they feel in charge of something and begin to see how they can solve problems.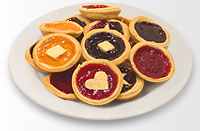 Cooking with your kids is an important thing to do. It gives them a real sense of achievement and satisfaction, while teaching them some very useful life skills; measuring, estimating, following instructions to achieve a result, dealing with some limited forms of danger (i.e. the hot stove or oven), and gives them confidence and the knowledge that they can prepare food, which is, after all, one of lifeís basic requirements.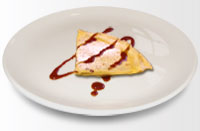 What could be a better way to spend an afternoon? Your place gets filled with that gorgeous smell of baking, you and your kids have a great time together, exploring the world of cooking and you all get to eat some tasty treat when itís all over, just in time for tea.